Servpro of Somerset Cleans up Northern Cambria Schools
9/13/2013 (Permalink)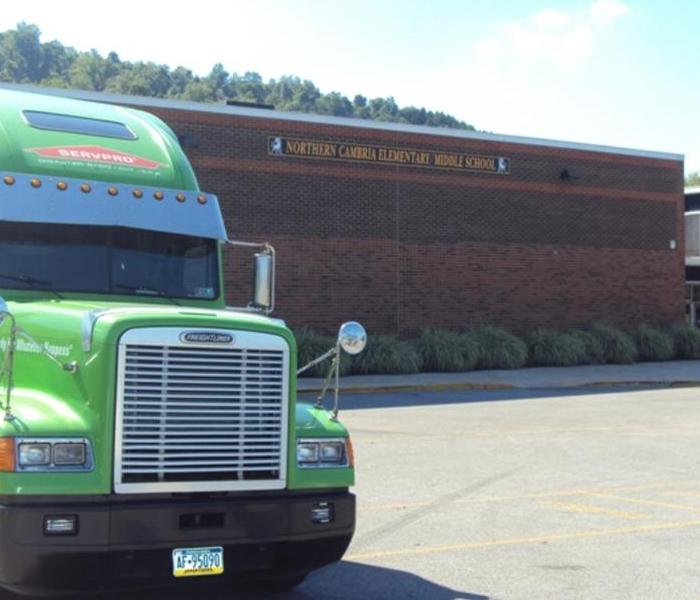 Northern Cambria Elementary/Middle School being cleaned up by the professionals at Servpro of Somerset County & Westmont
Heavy storming in Northern Cambria, lead to the many instances of local flooding—including the entire elementary and middle school facilities. Most of the town was underwater Labor Day night, as emergency officials estimate 4-5 inches of rain came down in less than an hour. On Tuesday, many people were cleaning out their basements and washing mud from their homes and driveways as school officials did the same in many classrooms. It took a lot of work for it all to be cleaned up and sanitized and required the district to cancel classes for the elementary and middle schools for the remainder of the week. Knowing it was time to call in the professionals, Northern Cambria School District called in Servpro, and Servpro of Somerset County & Westmont—the regions Large Loss Team—was dispatched to begin work immediately.
"I would expect our damages to exceed $200,000 before it's all said and done," said Rodney Green, interim superintendent for the Northern Cambria School District. Green said he came to work Monday night to find half the elementary and middle school flooded. "Water was standing in the hallways. We also had water in the cafeteria and we had water in the gym," said Green. "Our administrative suite, attached to the middle school, was completely flooded also." The once mulch-covered playground was a muddy mess and about 15 classrooms were soaked. The water entered the building after it flooded over a hillside behind the school, and directly into the administrative wing of the building.
On Tuesday dozens Servpro professionals got to work, moving furniture, sopping up water and conducting mold tests. "There will be a lot of restoration, water extraction and carpeting extraction," said Green. "A lot of things are going to happen in the next 48-72 hours." And right he was! After working over the holiday weekend to get the school back in order, Servpro was finished cleaning and drying the structure by Monday September 9th.
Remember! No job is too large for the pros at Servpro of Somerset!